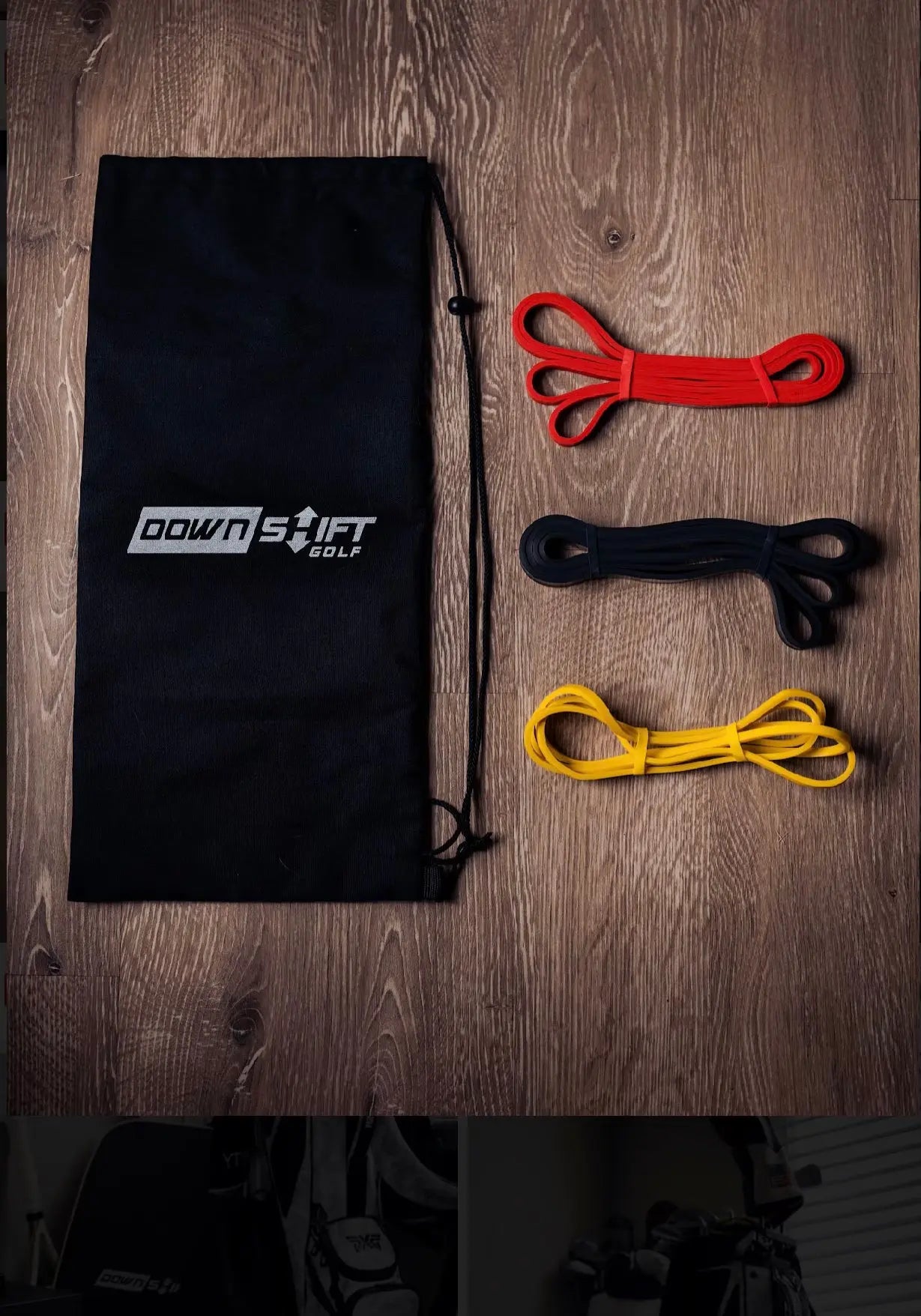 Downshift Golf Project Redline Travel Kit
$26.99 USD
We understand that space is a commodity so we designed a simple lightweight set of resistance bands to use at home or on the road. Easy to slip into your golf bag, you can loop any of the bands around virtually anything such as a golf cart or door handle to quickly get a workout or warm up in where ever you may be. Just like the Project Redline Kit, this travel kit can do the same exercises just without the bar or handles.  No bar? Just wrap it around a club like below
Just like the full Project Redline Kit, the travel kit allows you to train golf specific exercises as well as Ground Reaction Forces via RNT: 
RNT: Reactive Neuromuscular Training
Technical Definition: This type of training focuses on appropriate body positioning and posture to promote proper dynamic muscular stabilization during functional activities, thus allowing for the control of abnormal joint translation.
In a nutshell, a band will pull you in the opposite direction that you need to apply the force. By using resistance, the appropriate muscles fire and the learn the movement more quickly so that it translates to the desired movement. Although the Travel kit does no have as much resistance as the full kit, it packs plenty of punch for people new to fitness. 
RNT has been shown to increase torque and vertical forces dramatically from 25-50% and swing speed increases of 3-5 mph just like Brendon did below in just a few minutes.
Now not every has a Swing Catalyst or a Dr. Scott Lynn but anyone can train these feels and drills at home just by using a golf club or Project Redline.  Using the ground and sequencing properly is the key to power and consistency, not just swing speed training. 
Project Redline Travel Kit features three resistance band levels:
Each band is 6 1/2 feet in Circumference which is longer than you'll typically find anywhere. We made it longer to allow for more versatility.  Need it shorter? Just grip down.  
Warranty: 2 years
*If something does go wrong after 2 years just send me an email jeff@downshiftgolf.com*
Great golf aid!
This is a great aid. I personally struggle with weight shift and the downshift board has helped my body learn the feels to correct this. Using this aid is also teaching me how to use the ground more which is giving me a better feel with my swing.
Frequently Asked Questions